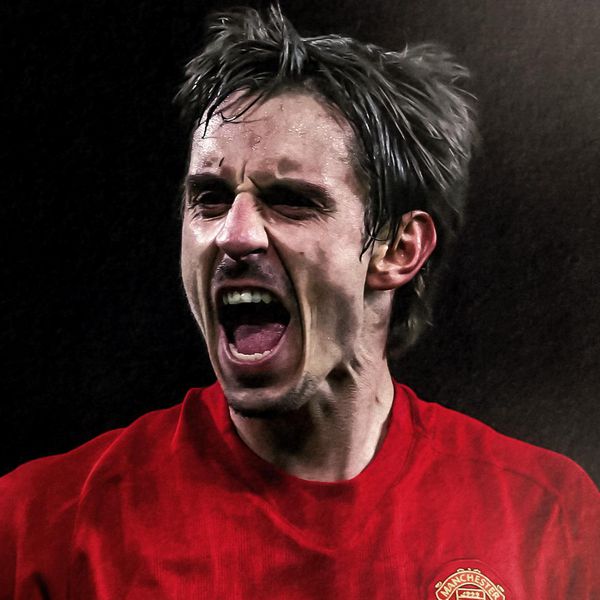 Appearances

602

Total goals

7
Previous Player

Foulkes
Next Player

Rooney
Biography
Gary Neville called time on an illustrious playing career on 2 February 2011, almost 20 years after making his debut for United.
He belongs to an elite group of players who have skippered the Reds to Premier League title glory. Following on from Bryan Robson, Steve Bruce, Eric Cantona and Roy Keane, Neville realised a lifelong dream as he became the fifth United captain to lift the Premier League trophy following the Reds' triumph in 2006/07.

Neville himself had missed the final stages of that season, having suffered ankle ligament damage just 11 minutes into the visit of Bolton to Old Trafford on 17 March 2007. The same injury kept him out for most of the 2007/08 season.

The Bury-born defender was handed the skipper's armband following Keane's departure during 2005/06. Being one of the Reds' most consistent and committed performers since establishing himself in the side in 1994/95 at the expense of Paul Parker, Neville was a natural choice. As loyal a servant as you could hope to have, and in an age where players rarely stayed put for long, he was among a dying breed of one-club men. "United is the only club I've ever wanted to play for," he says.

Vocal and single-minded, Neville has all the attributes and characteristics of a great leader of men. He entered every game refusing to contemplate defeat, and the fans loved him for it. However, Neville's heart-on-his-sleeve approach didn't endear him to everyone - his badge-clenching, fist-pumping celebration following Rio Ferdinand's last-minute winner against Liverpool at Old Trafford in January 2006 saw him charged with improper conduct by the FA and fined £5000.

"Are you meant to smile sweetly and jog back to the halfway line?" he protested at the time. "People want footballers to be whiter than white. Do they want a game of robots?" And that about sums up Neville's passion for the game and, more importantly, United.

There was no such censure for Gary's next high-profile celebration - at the 2006 Carling Cup final, when he lifted his first trophy as captain and collected the one domestic medal that had previously eluded him in his career. The Reds had not won the competition since April 1992, when Gary was in the famous youth team that also spawned David Beckham, Nicky Butt, Ryan Giggs and Paul Scholes.

Thereafter, Neville's character and determination never altered. "His performance level and drive have never changed," Sir Alex said of him in 2009. "It's more obvious in Gary because he never had the talent of Ryan Giggs or Paul Scholes, but he had determination to make sure he was always in the team.

"He also showed that quality to return after a year and a half out with injuries," added the then Reds boss. "We all had concerns that maybe he wasn't going to come back - at his age, it wasn't easy. But he was absolutely fantastic. It was a demonstration by Gary that he was never going to give in. He's an amazing man."

Although he missed out on United's Double success in 2008 due to injury, Neville added to his impressive honours collection with an eighth Premier League winners' medal in 2009 and a second Carling Cup triumph in 2010, after coming on as a substitute in the Wembley final against Aston Villa.

His enduring importance was recognised when the club extended his contract to keep him at OT until at least June 2011, but midway through the 2010/11 season he decided the time was right to retire. He did so with only four players ahead of him in the club's all-time appearance list - Ryan Giggs, Sir Bobby Charlton, Bill Foulkes and Paul Scholes . When he finally called time, he'd amassed 602 matches for his boyhood club.
Read more

About Gary Neville
Read Less

About Gary Neville
Position

Defender

Country

England

Date of birth

Joined

United debut

v Torpedo Moscow (H) UEFA Cup

Left United